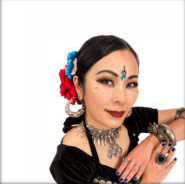 Michiyo is a dancer and an ATS® instructor in San Francisco CA.
From the very first time Michiyo saw ATS® she knew that it would became a life passion. What greater way to respect the years of pleasure than to dedicate herself to perfecting not only the form but the teaching of the dance so that others may learn the amazing experience which is ATS®…
In 2014, after years of regularly commuting to the Bay Area to study, Michiyo moved closer to the source in order to immerse herself in pure ATS®. This, in addition to her skill in both dance and tuition allows Michiyo to ensure her students master the complexities of learning a group dance whether it be remotely or in a studio.
In 2015, Michiyo graduated Advanced Teacher Training in SanFrancisco. The intensive two weeks of training with Carolena and Megha enabled Michiyo to further strengthen her skills in both dance and the teaching of ATS®. Michiyo has been teaching at FatChanceBellyDance® since August 2015.
Contact Michiyo for workshops, private lessons, classes  and performance